Posted under:
Root Canal
Posted on: November 20, 2020
Invisalign: Frequently Asked Questions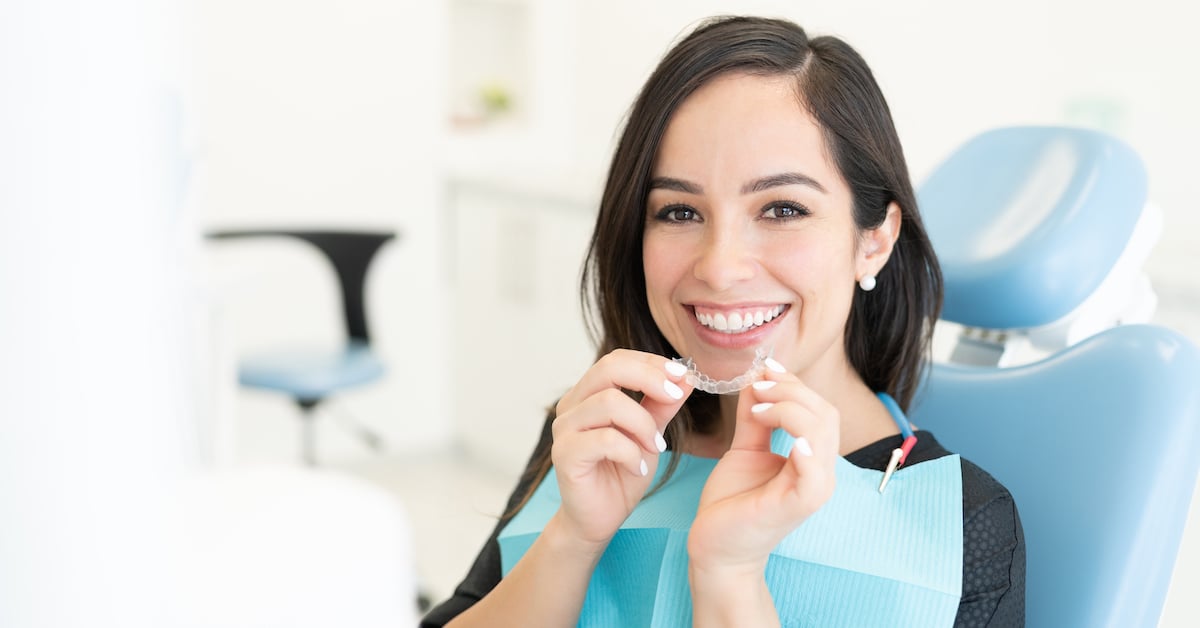 Do you have crooked teeth? Straightening your teeth for aesthetic reasons is fine, but that isn't the only reason you should consider getting a better smile. The American Dental Association says crooked teeth are harder to keep clean, so you're at a higher risk for decay and gum disease. Straightening them will help protect your future oral health as well as give you a more confident smile.
The idea of wearing braces turns some adults off from taking care of a crooked mouth. Many individuals would say giving a presentation at work with a mouth full of metal is worse than showing crooked teeth. Fortunately, there is an alternative; Invisalign. They are transparent and can straighten teeth just like braces. You don't have to wear braces and announce your orthodontic work to the world to have a more confident, healthier smile.
What is Invisalign?
Invisalign is a brand name for the most popular transparent aligner trays available through a dentist. The trays gradually shift teeth into the desired position. People wear them 22 hours a day and switch to a new tray every two weeks. Invisalign uses their patented SmartTrack material to ensure comfort and to make it easy for people to to slip them out to eat and brush their teeth.
Invisalign aligner trays are made-to-order and only available though a qualified dental professional. There are over six million Invisalign users, many of whom are adults who want to straighten their teeth discretely. Invisalign is just as effective as braces in most cases, but without the hassles and brackets and wires associated with traditional braces.
Who Is a Good Candidate for Invisalign?
Most adults and teens are good candidates for Invisalign, but it has its limitations. Treatable conditions are underbites, overbites, crossbites, crooked teeth and gaps between teeth. Severe cases of these conditions may require metal braces to correct. If you call to arrange a consultation, one of our specially trained dentists can perform an exam and see if Invisalign is a suitable option for you.
If you have a teenager, you may wonder if clear aligner trays would be a better option that braces. Consider the following when making a decision.
Would metal braces make your teen self-conscious?
Being a teen is hard enough without worrying about wearing braces. If image is important to your teen, they will most likely be more careful about following their Invisalign treatment plan so they can avoid braces. Most adults are also fans of a more discrete option.
Will my teen leave their Invisalign in for 22 hours a day?
Having to leave the aligners in 22 out of every 24 hour day is tough if you don't have a lot of discipline. Teens have to put them right back in after lunch at school without forgetting or being tempted to leave them out when hanging out with friends. If you don't wear the aligners, they won't work.
Will my teen brush their teeth after eating?
You have to brush after every meal and snack before you pop the aligners back in. Will your teen carry a travel toothbrush and diligently brush at school and at friend's houses? They can't even have a cola without first taking the aligners out, brushing their teeth and rinsing the aligner off before putting it back in.
How Do I Get Invisalign From a Dentist?
The first step is to book a consultation. One of our dentists trained to work with Invisalign will determine if this system can correct your misalignment. If so, he or she will explain how Invisalign works and ask if you're willing to wear the aligners 22 hours every day, taking them out only to eat, brush and floss.
Next, your dentist will take an impression of your teeth or perform a digital scan. You'll receive a treatment plan for gradually moving your teeth and the lab will create a series of aligner trays for you to meet your goals.
When your first aligner tray is ready, your dentist will go over how to clean it and tell you to expect slight discomfort at first, just like you would have with braces. You'll learn how long you'll wear the aligner trays and how often you'll return for new sets. Your dentist will also tell you when you will begin to see results. Since the trays are transparent, you can actually see teeth movement in as little as a few weeks. Call us today to get started.
Will Invisalign Disrupt My Life?
Invisalign will disrupt your life less than braces, but there are a few things you should know.
Lisping – You will still lisp, just like you would with braces. It's only for a day or two until your tongue gets used to them in your mouth. Practice talking with a friend the first day and don't give any speeches in the first 24 to 48 hours.
Travel Toothbrush – Get a travel toothbrush. You will have to brush your teeth after every meal and snack, even when you're not home.
Coffee – You can't casually sip on coffee all morning long since you must take out your aligners for too long. Water is all you can drink with the aligners in.
Snacking – Mindless snacking is out. You can still snack, but you have to count the time the aligner is out. Most people snack less and end up losing a little weight. It's often just not worth the effort of brushing your teeth and rinsing the aligner tray for a few potato chips.
What Happens Post Treatment?
When you finish with your aligner trays, you will most likely need a retainer for maintenance. Just like teeth straightening with traditional braces, teeth can move back to their previous misaligned state. The new, innovative retainers we offer are more comfortable than previous ones. Your dentist will tell you how long you will wear the retainer each day and for how long.
Where Do I Go for Invisalign?
While local dentists will perform orthodontic work, only certain, specially trained dentists, like ours, can offer Invisalign. If you want a straight, healthy smile, call us to book a consultation. You'll learn if Invisalign is a good option to meet your goals. We look forward to showing you the smile you could have with Invisalign.