Posted under:
Root Canal
Posted on: August 31, 2022
National Gum Care Month: What You Need to Know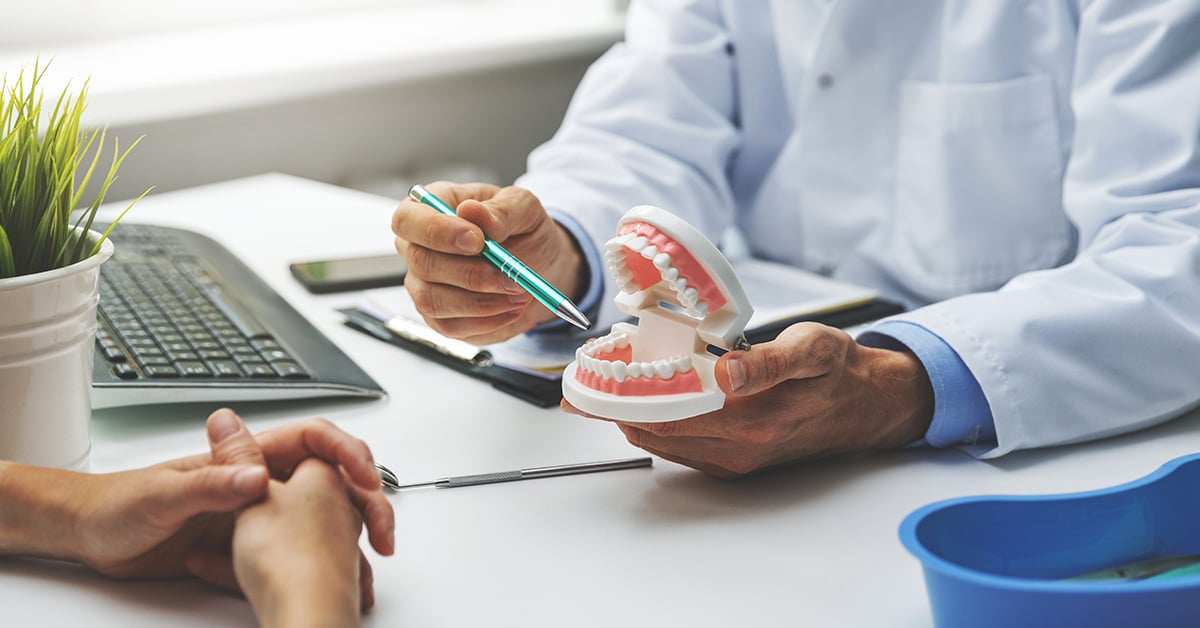 Using a month to raise awareness is a great way to help draw attention to problems that might get overlooked. One thing that tends to get overlooked a lot is gum health. When people think of their oral hygiene routine, they mostly focus on caring for their teeth. However, gums are just as important. In fact, gums act as the foundation for a healthy mouth.
That being said, gum health isn't something that people think a lot about. In fact, research suggests that the majority of tooth loss in adults over the age of 35 is caused by gum disease. One major cause of this is that many people, including adults, don't understand how important gum health is.
Thankfully, September is dedicated to National Gum Care Month. The goal of the month is to raise awareness in both kids and adults on the importance of caring for your gums. Let's take a look at how to care for your gums, why you should be visiting the dentist, and the problems that can occur from gum disease.
We're here when you need top-notch dental care you can count on. Call our office in Stratford today to schedule your appointment.
Gum Disease Is a Real Issue
Taking care of your gums involves coming up with a daily oral hygiene routine and sticking to it. If you don't care for your gums, you could develop periodontal disease, also known as gum disease. Once you develop gum disease, treatment can be difficult. It gets even harder to treat the longer that you wait to deal with it. If left untreated for long enough, gum disease can lead to a number of health problems.
For example, did you know that gum disease can lead to health issues not typically associated with the mouth? Studies show that it can contribute to strokes, heart disease and even diabetes. On top of that, gum disease can make it easier for your teeth to become loose or even fall out.
How Do People Go About Caring for Their Gums?
Now you know why preventing gum disease is so important, but how does one prevent gum disease in the first place? What kind of changes do people have to make to their daily oral health routines? The good news is that you don't have to change your daily routine as much as you would think.
Caring for your gums is a lot like caring for your teeth. You want to brush at least twice a day. When you do, make sure that you're using a soft-bristled toothbrush so as not to hurt your gums or teeth. Also, you have to make sure that you're flossing each and every day. It's often easy to skip a day or two, but you really shouldn't if you want to keep gum disease at bay.
Lastly, you have to schedule regular appointments to visit your Stratford dentist. Only dental professionals can thoroughly clean your teeth to ensure that you don't have any plaque or tartar buildup. The buildup of plaque and tartar is what leads to the development of gum disease. Your dentist can clean the buildup and let you know if you have any early warning signs of periodontal disease.
Keeping an Eye Out for Gum Disease Warning Signs
If you think that you might be suffering from gum disease, your best option is to visit your Stratford dentist. However, how do you know if you have gum disease? Thankfully, there are a few warning signs that indicate that you need to set up an appointment to go see your dentist. Since September is committed to National Gum Care Month, now is the perfect time to make sure people are informed about the warning signs of gum disease.
The most common warning sign for people to notice first is bleeding gums. Typically, you will notice your gums bleeding after brushing your teeth or flossing. Bleeding is a clear sign that something is wrong, and whether it's gum disease or not, it's a good idea to visit your dentist to make sure.
Another warning sign is swollen gums. If your gums are swollen, they're typically sensitive and red. This usually happens in the area of the gums that has gum disease. You may even notice that you have bad breath even after brushing your teeth.
If left untreated, you'll see that these problems start to manifest into something even more. For instance, some of the late stages of gum disease involve the gums actually starting to pull back from the teeth. In such a situation, infection or pus could be seen in the area.
Schedule an appointment with a dentist in Stratford today! Your gums won't fix themselves, and you deserve the best care.
The Stages of Gum Disease
There isn't just one stage of gum disease. There are different stages, and some of them require different levels of treatment. Let's take a quick look at the stages of gum disease and what you can expect.
Gingivitis
The first stage is usually just referred to as gingivitis. Typically, the symptoms with stage one gum disease are pretty mild. Most of the time, it only involves bleeding or swollen gums. Unsurprisingly, stage one is the easiest level of gum disease to treat.
Periodontitis
The next stage of gum disease is called periodontitis. This advanced level of gum disease occurs when gingivitis is left untreated for a long period of time. Once it reaches this level, tiny pockets start to form within the gums. Bacteria and even food particles can get caught in these pockets, which can worsen the problem.
Advanced Periodontitis
The third and final stage of gum disease is advanced periodontitis. During this stage, the gums will start pulling back and away from the teeth. Over time, it can damage the bones and connective tissues that support the teeth. During this stage, it's not uncommon for teeth to become loose or even fall out. Once this happens, the only form of treatment is oral surgery.
Count On Us for Help
Are you or a loved one in need of gum disease treatment? If so and you live in Stratford, consider reaching out to our friendly staff. We can set up an appointment so that you can get the treatment that you need. We offer a number of other dental services as well. Don't wait to reach out to us today.