Reasons and Remedies For Tooth Discoloration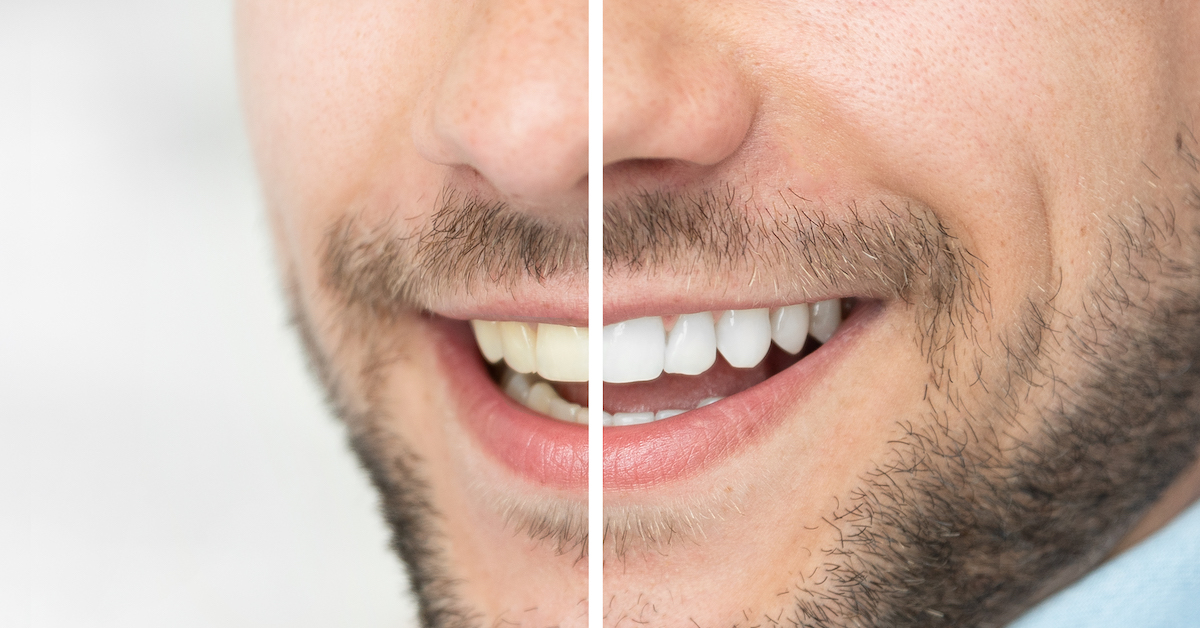 Many people don't smile much because of their stained and discolored teeth. If that includes you, then the following information may help you whiten and brighten your smile and your outlook on life.
Are Stained and Discolored Teeth Avoidable?
There are many causes of stained and discolored teeth but not all of them are avoidable. The primary reasons for discolored teeth include the aging process, necessary medications, trauma to permanent teeth, eroded tooth enamel, and genetics. Lifestyle choices certainly play a factor, but they're not the only contributors.
Does My Diet Cause Tooth Discoloration?
Although you may have favorite foods and beverages, they may contribute to your discolored teeth. The following foods and beverages can contribute to dull, discolored teeth:
Carbohydrates: Most of our favorite carbohydrates like white bread, white rice, white potatoes, pasta, and cereals are full of sugars that can erode your tooth enamel.
Dark beverages: Coffee or tea, dark red wine, dark fruit juices, and dark beer or ale can discolor your teeth and weaken your tooth enamel.
Sugary drinks: Sports drinks, fruit juices, dark colas, and sodas can be full of sugar and acid that will attack your tooth enamel and make your teeth appear discolored or stained.
Sugary snacks: Candy and gum are primarily comprised of sugar and can erode your white tooth enamel. This will make your teeth appear dingy and discolored.
Do Some Foods Prevent Tooth Discoloration?
Just as some foods can contribute to your discolored teeth, some foods can actually help to reverse the process and make your teeth appear whiter. Making these foods part of your daily routine can help brighten your smile while it makes you healthier:
Plain water: Although not the most exciting beverage on the planet, plain water is one of the best drinks for you. It quenches your thirst while removing the acids and sugars that attack your tooth enamel. It also removes food particles that remain in your mouth after eating and keeps your body hydrated.
Sugar-free beverages: If you just can't stomach plain water, then opting for sugar-free beverages is better than nothing. However, artificial sweeteners aren't good for your physical health, so be sure to consume the artificially-sweetened drinks in moderation. As an alternative, you can opt for mineral water or sparkling mineral water as long as it's unflavored and unsweetened.
Cocoa: Although not typically considered good for your teeth, cocoa is highly anti-inflammatory, which can deter the formation of tooth decay and periodontal disease. Be sure to rinse your mouth with plain water after consuming cocoa. The darker the cocoa, the better. Milk chocolate, white chocolate, and chocolate syrup aren't considered anti-inflammatory. Generally, the higher the sugar content, the lower the anti-inflammatory benefit.
Flax seeds and fish: Both fish and flax seeds are high in omega-3 oils, which are potent anti-inflammatory nutrients and may help prevent periodontal disease. Be sure to balance the omega-3 oils with the correct ratio of omega-6 oils, though, for optimum benefit.
Dairy products: For those who don't have an adverse physiological reaction to dairy, it's an excellent source of protein and calcium, both of which can strengthen your teeth and prevent erosion of tooth enamel.
Does Smoking Always Cause Tooth Discoloration?
Most smokers will eventually get stained and discolored teeth unless they choose to quit smoking. For those who have tried unsuccessfully to quit, talk to your dentist about alternative methods that might be more successful, such as black pepper essential oil or other non-traditional remedies.
Are There Types of Tobacco That Won't Discolor My Teeth?
The short answer is no. Dentists unanimously agree that no matter the type of tobacco you use, it will stain or discolor your teeth. Not only that, but smoking is the primary cause of lung cancer, and it is a leading cause of periodontal disease.
Can I Have Whiter Teeth But Still Smoke?
If you want to continue smoking despite its deleterious effects, there are alternative methods for having whiter teeth, although they won't be as white as those of a non-smoker. To get somewhat whiter teeth, consider the following:
Brush and floss at least twice each day and use an antibacterial mouthwash once daily.
Brush your teeth after eating and after smoking so that you remove the maximum amount of residue that darkens your teeth.
Get regular dental cleanings twice each year.
Eat healthy. A well-balanced diet will help your body fight off the harmful effects of smoking and raw fruits and vegetables will help cleanse your teeth and mouth.
What Can I Do to Help Prevent Tooth Discoloration?
Aside from quitting smoking, other lifestyle remedies can help you have whiter teeth, such as:
At-home whitening kits: Although the over-the-counter teeth whitening kits are less effective than those done in your dentist's office, they will help. Be aware, however, that if you have dental work such as crowns or caps, they probably won't whiten the same as your natural teeth, so you may have unevenly colored teeth. Ask your dentist for an at-home whitening kit: Some dentists will provide at-home kits that use the same professional products that they use in their office, just customized for at-home use.
Professional teeth whitening: Your dentist undoubtedly provides teeth whitening services, and they'll monitor the color so that all your teeth are the same shade.
However, if you continue to smoke, your tooth discoloration will most likely return.
What Habits Will Prevent Tooth Discoloration?
Several habits can provide you with whiter teeth, as long as you follow a few simple precautions, such as:
Brush and floss after every meal and especially just before bedtime.
Always brush after you smoke.
Use tooth-whitening products regularly.
Get a professional tooth-whitening procedure from your dentist.
Maintain a healthy diet and a healthy body. Rinse your mouth frequently with plain water.
Dull, discolored teeth aren't a given. Whether you smoke or you don't, you can have whiter teeth with a little bit of effort. Talk to your dentist about the lifestyle changes and products that can provide you with the whiter, brighter smile you want to start smiling again!