When a Dental Emergency Strikes, Call Us for Emergency Dental Care Near Stratford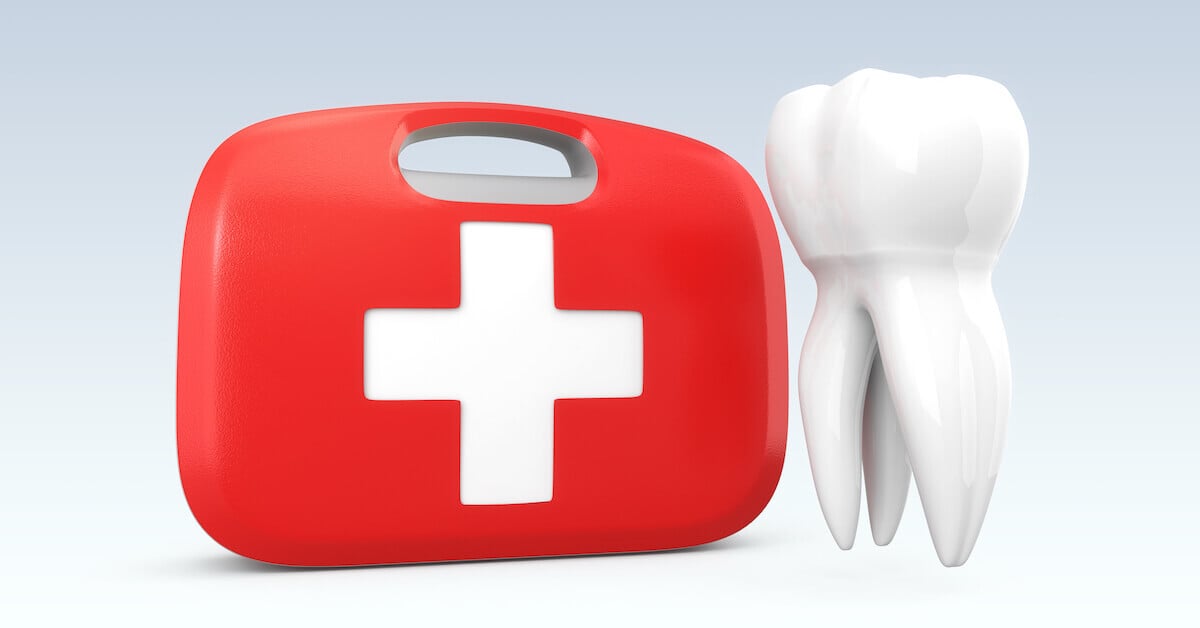 If you have ever suffered a broken tooth or abscess, you know that a dental emergency is painful, inconvenient, and potentially expensive. No matter what type of emergency you are experiencing, you can trust our emergency dentists to provide state-of-the-art emergency dental care near Stratford.
Why Should I Go to an Emergency Dental Clinic Instead of My Primary Dentist?
Of course, a primary care dentist is the right choice for standard dental issues, such as cleanings. Some even provide same-day appointments for patients with emergency dental issues. Certain oral health concerns, however, are so serious or painful that you may not be able to wait for hours or days to get into a primary care dentist. When time is of the essence, you may have to turn to an emergency clinic. In addition to offering quality dental care, these emergency clinics have the advantage of shorter wait times, extended operating hours, and affordable prices.
What Type of Dental Issues Require Emergency Dental Care Near Stratford?
Getting help quickly during a dental emergency is essential for alleviating your pain and preventing long-term tooth damage. Severe pain, visible damage to a tooth, and signs and symptoms of an infection are all cause for immediate concern. If you are unsure if your issue is an emergency, contact a dentist as soon as possible for guidance.
Does Your Clinic Provide Emergency Services for Severe Toothaches?
Our clinic is equipped to handle common causes of tooth pain and sensitivity, including:
Cracked or Fractured Teeth
Cracked or fractured teeth typically occur following an injury to the face or mouth or after biting into something hard. Depending on the severity of the damage, the dentist may recommend a restoration, such as a bridge or crown, or extracting the tooth and replacing it with a bridge or implant.
Abscesses
Abscess is the medical term for a bacterial infection of the tooth or gum. Most abscesses occur after the tooth is fractured or damaged in some way. Symptoms can range from intermittent pain and sensitivity to temperature and pressure to drainage from the site of the infection, fever, nausea, and vomiting.
Tooth Decay
Most of us have experienced a cavity at some point. The damaged areas on the surface of the tooth can lead to pain and sensitivity.
Root Canal Infections
A root canal is normally performed to remove diseased tissue from inside of the tooth. In some instances, the treated tooth can become reinfected.
Bruxism
Bruxism is the medical term for clenching or grinding your teeth. This normally occurs during sleep and can cause chronic face, mouth, neck, ear, and shoulder pain. In extreme cases, the pressure can crack the teeth or wear down the protective enamel.
Sinus Infections
Pain in the upper rear teeth is a common symptom of sinus inflammation and infection.
Receding Gums
If your gums have receded because of genetics or periodontal disease, you may notice increased sensitivity when eating and drinking.
Tooth Enamel Erosion
You may experience pain and sensitivity if your tooth enamel has been damaged by bruxism, acidic foods and beverages, or frequent vomiting.
Does Your Office Offer Emergency Dental Care Near Stratford for Traumatic Dental Injuries?
Chipping, breaking, or knocking out a tooth is certainly distressing; however, it may be possible to save the damaged tooth as long as you act quickly and keep a clear head. If you contact our clinic within 30 minutes of a traumatic dental injury, we can provide you with advice on handling and preserving the tooth until it can be assessed by our dentist. If the tooth is too damaged to save, we can suggest an affordable crown or implant. Most traumatic dental injuries occur in children. According to estimates from the American Academy of Family Physicians, approximately one-third of children can expect to damage a primary tooth, and up to 20% of 12-year-olds will damage one of their permanent teeth in some way. The majority of these injuries occur as a result of a fall, playing contact sports, or bicycle or motor vehicle accidents.
Should I Go to a Walk-in Dental Clinic If I Have a Lost or Damaged Dental Restoration?
Absolutely. A damaged or missing restoration is considered an emergency. The underlying tooth is normally weakened and vulnerable to infection and structural damage. Even if there is no pain involved, our dentist may recommend using dental cement or adhesive to reinforce and protect the tooth until the filling or crown can be repaired. If you are in pain, we can also recommend an appropriate over-the-counter pain reliever.
Can I Get Emergency Dental Care at the Emergency Room?
An ER physician is not qualified to perform invasive dental procedures, such as extractions and restorations. The ER is your best option, however, if you have suffered a serious injury to the head or face. These types of injuries may require surgery and other life-saving treatments that are only available in a hospital. On the other hand, only a dentist has the training to perform the emergency dental procedures needed to preserve or restore a tooth. Severe infections of the mouth, face, and jaw normally require antibiotics and pain medications that are only available in a hospital, so you should head to the ER if you experience:
Radiating or worsening pain
Fever
Swollen lymph nodes in the neck and jaw indicating that an infection may be spreading
Even after going to the ER, you may still need to consult a dentist for additional treatment.
If you or a loved one experiences an urgent dental issue, contact your nearest Dental Care Alliance practice as quickly as possible. We provide emergency dental care near Stratford at prices that won't break the family budget. You will be working with a team dedicated to providing the highest level of emergency dental care in a compassionate and professional environment. Call or go online to schedule your appointment today.