Why Flossing Is a Must, Not a Maybe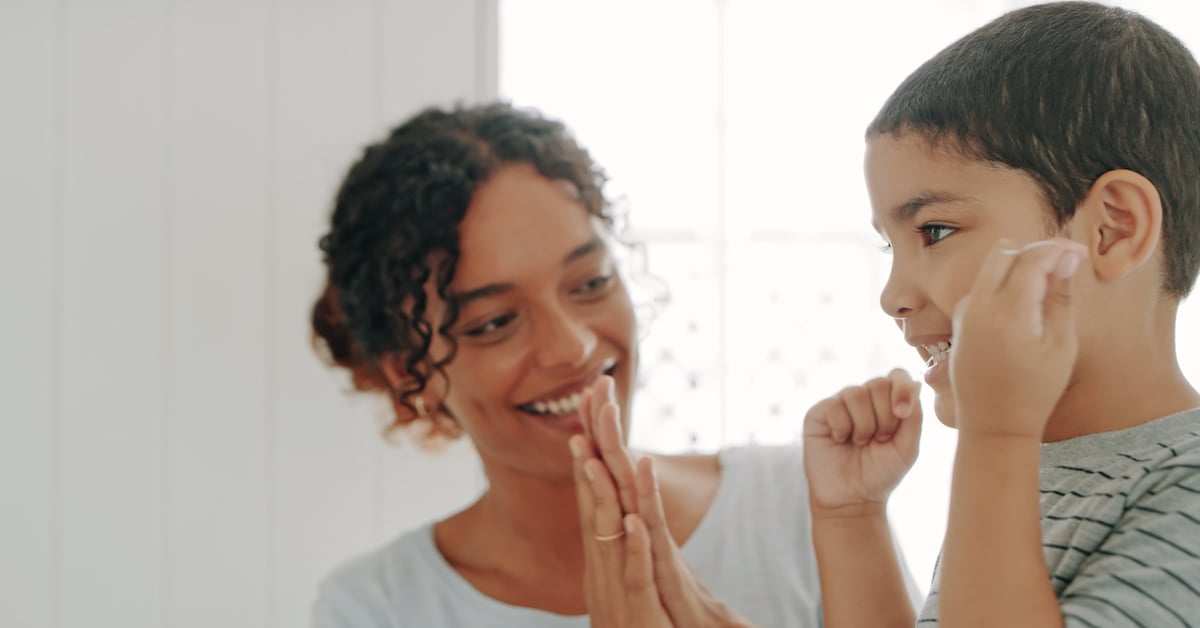 Flossing is a necessity that many people overlook because they believe that brushing their teeth every day is enough to keep their teeth healthy. According to dental professionals, brushing is only the beginning of a good oral health care routine. While you may find it difficult to believe, that thin strand of dental floss is one of the only things strong enough to remove plaque from in between your teeth and gums. Leaving plaque to its own devices leads to decay, disease and dental damage that could have been prevented via the use of a skinny string of floss.
Plaque is a sticky, clear substance that forms over the surface of your teeth and gums whenever you eat or drink something. It is full of bacteria that lead to the production of a type of acid that destroys the enamel of your teeth. Leaving plaque on the teeth and gums causes tooth decay, gum inflammation and gum disease. Brushing your teeth twice a day and flossing once a day can help you to avoid going through these preventable conditions.
In addition to being good for your oral health, flossing can also help prevent periodontal disease, which is also known as gum disease. Periodontal disease has been linked to serious medical conditions like diabetes, pneumonia, obesity and cardiovascular disease. While researchers aren't entirely certain as to why this link exists, it is believed that the link exists in the inflammation that is caused by the bacteria that forms in your mouth. Brushing and flossing every day are the best ways to keep the numbers of bacteria living within your mouth down, reducing your overall risk for developing health problems.
While it's important that everyone floss, there are some people who are more vulnerable to periodontal disease and tooth decay. Anyone with a serious medical condition or who is on any kind of medication that reduces the amount of saliva present in the mouth needs to be sure that they floss on a consistent basis. This is because the purpose of saliva is to rid the mouth of bad bacteria. Having low levels of saliva in your mouth leads to higher levels of bad bacteria, furthering your risk of having oral health issues.
Now that you know why you need to floss once a day, you need to know the way to properly floss. The best technique is to take a length of floss and pull it along each side of the base of the tooth. This helps you to reach and remove plaque and food particles from the areas between the teeth and gums. You should repeat this gentle pulling motion on each tooth while using a fresh section of floss.
Kids Should Floss Their Teeth Too!
Flossing isn't just something that adults should do. Children should begin flossing as soon as they have two adjoining teeth. Regularly flossing children's teeth will eliminate plaque, clean teeth, prevent bad breath and keep potential major dental health problems from developing further down the road. Just like adults, children should floss at least once a day. Instilling this habit early on will set your child up for dental hygiene success.
Tips to Get Kids Flossing
Track Flossing Success – Make your own flossing chart and hang it up in the bathroom your child uses. Each and every time your child flosses their teeth, add a fun sticker to the chart. After your child has flossed for a predetermined number of days, give him or her a reward such as a new toy, going out to a movie or getting to stay up later than usual.
Make Flossing Exciting with Fun and Games – Create a fun activity to do alongside flossing. Some ideas include a dance party, telling an exciting story or playing a fun song while encouraging your kids to floss to the rhythm of the music. All it takes is a little bit of creativity and your kids will be looking forward to flossing every day.
Get Bright, Colorful Tools – While adults use regular old dental floss, kids have the option of using fun flossing tools that are made to specifically appeal to children. Brightly colored flossing sticks (some even glow in the dark) are popular tools because they are easy for kids to hold onto.
Praise Good Performance – Any time you want to instill a new habit in your child, you need to be sure that you praise him or her whenever the habit is performed correctly. This kind of positive reinforcement will give your kids a great incentive to continue flossing every day.
Lead by Example – You are your child's best teacher. That's because children naturally want to imitate what their parents do. If you floss every day, your child will want to do it too. To further encourage this kind of behavior, have the whole family floss together every night. Not only will it help to develop an excellent oral health care habit in your child, but it will keep your teeth and gums healthy as well!
Simple Steps for Foolproof Flossing
The American Dental Hygienists Association has offered the following easy steps for you to follow while you're flossing your teeth:
Wind – Pull tightly on about 18 inches of dental floss with your thumbs and index fingers. This creates a taut strand of floss for you to use.
Guide – Utilize your index fingers to lead the floss between each tooth.
Glide – Gently glide the floss between each tooth.
Slide – Utilize a clean section of dental floss for each tooth. Gently move the floss up and down across the surface of your teeth as well as under the gumline.
If you'd like to use a flossing tool such as a hand-held flosser or an electric flosser, the technique will remain much the same. The only difference is that you will be holding the handle of a flosser rather than the string of floss itself.
It's important to be sure that your movements are gentle while you're flossing your teeth. This is especially important if you wear braces or have had other dental work completed. Speak with your dentist about how you can use floss threaders or orthodontic floss to protect your braces or restoration work.
Once you've made a commitment to floss, it won't take long before it becomes an automatic part of your day. To learn more about how to properly floss, contact Lighthouse Dental Care for more information.