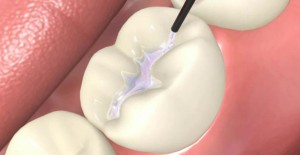 At some point, every dental patient has wondered: what if I could cover my tooth with something to keep cavities away? Luckily, dentists have already considered this idea, and they've developed something that works quite well: dental sealants. Dental sealants can prevent tooth decay from developing into cavities, thus preserving your oral health in the process.
Because he recognizes that dental sealants are so useful, Dr. Mark Samuels provides the service to his patients at Lighthouse Dental in Stratford, CT. You, too, could take advantage of the great technique. Simply call (203) 742-1027 or fill out a form on our website to explore the opportunity today!
What are dental sealants?
As the name explains, dental sealants "seal in" a tooth, thus protecting it from decay and damage. This is done via the application of an extremely thin layer of a special kind of plastic that can bond to the surfaces of a tooth. This plastic covers up and protects the tiny nooks and crannies in the surface of a tooth, thus making it more difficult for harmful bacteria to cause tooth decay and cavities.
Most of the time, dental sealants are applied on the chewing edge of the molars (the far back teeth). This is because the molars are both the most vulnerable and hardest to clean teeth in the mouth. You use your molars to chew everything, putting them into contact with bacteria of all sorts, but, at the same time, they're located so far back that it can be difficult to brush and floss the area. Dental sealants help pick up some of this slack, thus protecting the teeth from damage and decay.
Why should I get a dental sealant?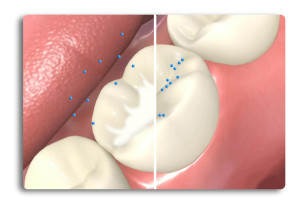 Everyone can take advantage of the unique protection offered by a dental sealant, but two groups of people derive special benefits from the technique. These are:
Dental patients prone to cavities: For the most part, regular brushing and flossing should keep the worst effects of tooth decay at bay, but this is unfortunately not always true. Some people may just be more prone to tooth decay. It's perfectly natural for these differences to exist between patients. To help patients who are more at risk for cavities, dental sealants are sometimes prescribed so as to level the playing field and give them a better chance at staying cavity-free.
Children and young teenagers with new permanent teeth: Children and young teenagers whose permanent teeth have recently come in are also often prescribed dental sealants. This is because children between the ages of six and 14 are often most prone to tooth decay. Not only are their teeth at a delicate development stage when protection is necessary, but they also tend to be less adept at maintaining good oral hygiene. Again, specific situation will differ from patient to patient, but it can never hurt to have that extra layer of protection from cavities.
Of course, you don't have to be a member of either of these groups to garner advantages from dental sealants. Getting extra protection for your molars can only help and not hurt you. It's never a bad idea to ensure that harmful bacteria have to work harder to damage your teeth. You can always discuss the option with your dentist: he or she can give you patient-specific advice for how you should process.
What is the dental sealant application procedure like?
Dental sealants have a very simple application procedure and don't require an extra visit. First, the tooth getting the sealant will be meticulously cleaned by either your dentist or a professional hygienist. This ensures that no bacteria or food particles are trapped under the sealant and helps the bonding process.
Once this is done, the tooth will be carefully dried and then washed with a special acidic solution. This solution is perfectly safe and will roughen the surface of the tooth, making it easier for the sealant to bond to the tooth. Once the whole surface is treated, this solution will be washed away and the tooth will be dried again.
After this, the sealant itself can be applied. Depending on what product your dentist uses, the process can be slightly different. Most of the time, sealant is in liquid form and will be painted on the tooth. A special light may be used to then cause the liquid to dry, harden, and bond to the tooth, forming a hard, protective, permanent cover over the tooth. The entire procedure shouldn't take more than 30 minutes to an hour.
Dental sealants can be great for any patient. To get a professional's advice for whether you should explore this treatment, be sure to contact Dr. Mark Samuels from Lighthouse Dental Care in Stratford, CT. Dr. Samuels is always happy to discuss and explain various dental treatments to his patients! Simply call our office at (203) 742-1027 or fill out the contact form located on our website to set up a diagnostic appointment today!
---
Dental Care Service
Popular Dental Services
Trending Procedures