Taking Care of Those Teeth: Why Dental Exams and Cleanings are Important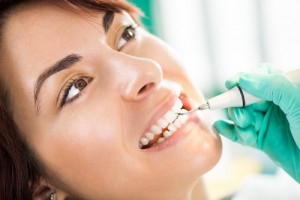 Every day, your teeth are under attack by cavity-causing plaque. Plaque is a clear, sticky substance created from food particles, saliva, and bacteria in your mouth. If it's not removed by daily brushing and flossing, it hardens into tartar (calculus) which can only be effectively scraped off your teeth and removed from hard-to-reach areas like in-between the teeth by a dental professional. If it's not removed, the plaque build-up can lead to cavities, bad breath, gum infection, and other problems.
Can Dental Exams and Cleanings Prevent Gum Disease?
Gum disease is a real problem that many individuals face. It is problematic for a variety of reasons but, in extreme cases, can result in infections and even loss of teeth. Chronic periodontal (gum) disease is the number one reason adults lose their teeth, according to the National Institute of Dental and Craniofacial Research.
The main reason that gum disease develops is because of a plaque buildup along the gum lines and between teeth. Many people are surprised to learn that the first stage of periodontal disease is gingivitis; this is the only stage that can be reversed. Left untreated, it can advance to a chronic condition that can be managed, but not cured. Gum disease weakens the ligaments and erodes the bone holding teeth in place, plus has been linked to diabetes, heart disease, and other health conditions.  Therefore, patients should seek dental advice regularly to prevent a larger problem down the line.
Will My Smile Look Better?
If you have regular dental exams or dental cleanings, there is a good chance that your smile will look better in the long run. This is because dentists can identify the problems that may jeopardize cosmetic value of the teeth sooner and can remedy concerns that may be present. Further, dental experts at regular exams can actually help you to create and develop a prevention plan that is right for you and your smile goals. Additionally, these regular meetings will help you to start to connect with your dentist and provide you both time to really learn what the other is all about and develop the relationship that is vital for any health professional. Therefore, consider it both a smile-improving and relationship improving necessity.
Can Dental Exams Help With Cancer Prevention?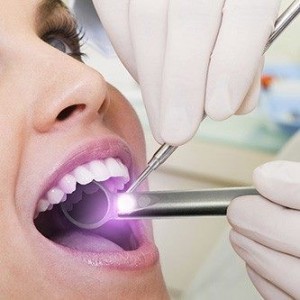 Dentists like our Dr. Mark Samuels may not be thought of as a first line of defense in preventing oral cancers and detecting them but they are. Many cancers that are connected to the oral region like throat and mouth cancer as well as those that are located elsewhere can present symptoms in the mouth region first. Therefore, a well-trained dental expert will be able to not only see these anomalies but may also be able to detect what is occurring at a much sooner rate than others, if the dental exam and dental cleaning is performed on a regular basis. That is why it is so important for patients to schedule an appointment with Lighthouse Dental Care to prevent cancer from presenting or spreading without patient knowledge.
What Is Involved in a Dental Exam or Dental Cleaning?
Speaking in general terms, as each patient is different and may require different approaches, dental exams and cleanings involve two very distinct areas. First, a dental expert like those at our very own Lighthouse Dental Care in Stratford, CT, will start to take the time to get to know you and your mouth. This is done through both physical and visual observations, and may also require other activities and diagnostic tools such as an x-ray to see the internal components and structures of the teeth.
Plus, a dental expert will take this time to clean the teeth. Using a series of abrasives such as a metal pick or water pick, a dental expert will begin to remove the plaque buildup that can really impact the teeth. He or she will also talk to you about what corrective steps are need in the future and what to expect from your oral health progress.
Why should I check for Oral Cancer?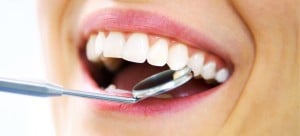 Cancer does not discriminate. It can attack the mouth just like any other organ of the body. It can cause a multitude of problems and can result in death. It is the sixteenth major cause of cancer on a worldwide basis. Fortunately, it is also one of the causes with the highest survival rate, up to 63%.
Early detection saves lives. Dentists like Dr. Mark Samuels perform an oral cancer examination during a routine visit. He is looking for any lesions or other signs of oral cancer.
Do I belong in a high-risk group for oral cancer?
If you …
Use tobacco in any way (smoking, chewing or snuffing)
Are a heavy alcohol drinker
Expose yourself to the sun too much (which increases the risk of lip cancer)
Have already had a previous oral cancer diagnosis
Are infected with the human papillomavirus (HPV)
Have very unhealthy dietary habits
… then your risk of developing or re-developing oral cancer is significantly higher and you will need to check with your dentist about whether regular oral cancer screening would be good in your case. Interestingly, men have a greater susceptibility to oral cancer than women, and the risk increases significantly for either men or women over the age of 50.
When should I get worried?
Oral cancer tumors are, most times, painless initially, but they can produce other problems like difficulty in moving your tongue around and swallowing. As the condition progresses, there may be pain or a burning sensation behind the wisdom teeth area  or behind the ears. Lumps, lesions or sores may appear that don't go away after a couple of weeks.
What is the oral cancer screening process?
In an oral cancer screening, dentists like Dr. Samuels first look for patches (red or white) or sores inside the mouth. Then they feel the mouth tissues with their fingers to uncover any lumps or abnormalities. For this examination, you will be asked to remove any dentures.
If any of the above is discovered during the screening, then you will need to schedule follow-up visits to determine if the abnormalities resolve or remain over time. If they remain, then other tests and procedures will be needed to confirm a diagnosis and treatment plan.
What are the follow-up tests and procedures?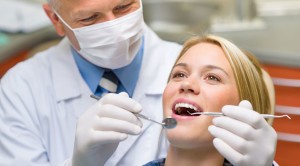 Should Dr. Samuels  find signs of oral cancer, then he may choose to proceed to further tests, such as:
Using a blue dye to rinse your mouth. In many cases the abnormal cells attract the dye and they appear blue.
Using a diagnostic light to pinpoint the abnormalities. Normal tissue appears dark while the suspect tissue appears white.
For those cases where there is an amount of certainty that the tissues have developed oral cancer, then a biopsy may be in order.
If this is the case then a small amount of the tissue is extracted and tested in specialized labs (biopsy).
What happens if I am diagnosed with oral cancer?
First of all, don't have to panic. If it is diagnosed in the early stages then the treatment is relatively simple. Surgical intervention will be needed to remove the tumor, lesion or other affected tissues. Experienced dentists like Dr. Mark Samuels can perform this kind of treatment in his office.
Unfortunately, if the oral cancer is at a more advanced stage, the situation is a bit more complicated. In addition to more serious surgical interventions, there may be a need for additional radiation or chemo therapies, especially if the nature of the oral cancer has made it difficult for surgical access. It is also possible that after the main therapy to remove the cancerous tissues, additional procedures like plastic surgeries may be required to restore the functionality. These types of treatments will be costly and require hospitalization.
Getting a cancer screening can save your life. You can't really do self-examinations for oral cancer like you can for breast cancer. You need a professional, experienced dentist who knows whether what he sees could possibly be cancer or not.  Call Dr. Mark Samuels' office at (203) 742-1027 to setup an appointment for an oral cancer screening.

Where Do I Turn to Begin?
Your oral health is important but building a relationship with a dentist can be difficult if you are unsure of where to turn or where to go. That is where we at Lighthouse Dental Care can help. Lighthouse Dental Care and our team are ready to guide you through every step in the process, help you to build that relationship, and give you the confidence you need for all of your dental exams. For more information or to set up an appointment, call us at (203) 742-1027.
---
Dental Care Service
Popular Dental Services
Trending Procedures