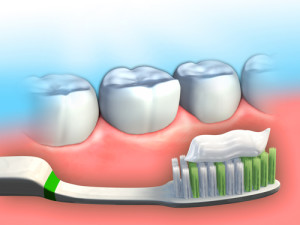 Everyone who has visited a dentist knows that the most common oral health problem is simple: tooth decay and cavities. So what if dentists could protect your teeth to such an extent that cavities cannot form in the first place? Although there's not yet a way to be 100 percent sure that no cavities will develop, there is a great procedure that can help protect your teeth: fluoride treatments. For more information about the procedure or to see if the process may be right for you, you can contact Dr. Samuels by calling (203) 742-1027.
What is tooth decay?
Tooth decay, as mentioned above, is one of the most common oral health issues that can affect a dental patient. As the name suggests, tooth decay, professionally known as dental caries, describes a process within which harmful bacteria slowly wear at a tooth to cause decay. Eventually, cavities will form on the surface of a tooth, and, left untreated, the cavities can grow to such an extent that the tooth may be irreparably damaged.
Luckily, tooth decay almost never gets to that point because cavities are so easy to detect and treat. With a simple X‑ray, your dentist can notice the presence of cavities and take the appropriate procedures to stop up and fill those cavities. Composite fillings are used for this very purpose. Such fillings can repair the damage done and protect the tooth from further decay.
However, it's important to realize that untreated tooth decay is nevertheless a serious oral health concern. That's why, to make sure you don't have any cavities developing unnoticed in your teeth, you should go to your prescribed six month checkups. They allow your dentist to be absolutely sure that your teeth and gums are well-protected.
How can fluoride prevent tooth decay?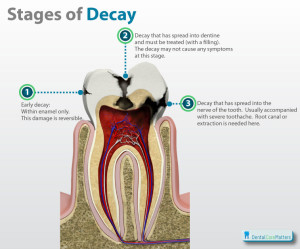 There is one thing, though, protecting your tooth from decay: dental enamel. Dental enamel is what dentists call the hard, protective, outside layer of the tooth. To create cavities in a tooth, bacteria must first penetrate this protective layer. Thus, preserving the enamel on your teeth is crucial to preventing tooth decay from becoming a big issue.
And that's where fluoride comes. The enamel on your teeth have an interesting property: they can regenerate over time. To do so, though, they need to be supplied with the appropriate minerals. Fluoride is a trace substance that can remineralize the enamel on your teeth, thus protecting them from harm. Getting a steady supply of fluoride can be crucial to preventing tooth decay from developing into cavities.
However, fluoride can be a controversial issue. A persistent group of naysayers often proclaim the perceived health risks of ingesting fluoride. The scientific research, however, is firmly on the side of the dentists. Studies show that fluoride is a 100 percent safe substance that protects rather than harms the teeth. That's why the American Dental Association (as well as your personal dentist) recommends products containing fluoride to their patients.
What are some sources of fluoride?
The sources of fluoride are many, and this is no coincidence. Most dental products contain fluoride because the substance can so effectively prevent tooth decay and cavities. The most common products that contain fluoride include:
Drinking water: To combat the growing number of children with cavities, the government in the 1970s decided to introduce fluoride to drinking water. Again, the addition is time and scientifically proven to be both safe and effective. The amount of cavities in children has dramatically decreased since then.
Toothpaste: Most brands of toothpaste contain fluoride as well. Again, this isn't an accident. Toothpaste producers know about the benefits of fluoride, and their products contain a portion of the substance so as to be more effective.
Special fluoride treatments: Dentists often provide special fluoride treatments as well so as to give their patients an extra boost. These can differ in form and application, but they have the same purpose: they remineralize  enamel and protect the teeth from decay.
Dr. Mark Samuels and his colleagues are among the dentists that offer special fluoride treatments to their patients. To learn more about this procedure or to schedule a dental appointment, call (203) 742-1027 to set up your appointment today!
---
Dental Care Service
Popular Dental Services
Trending Procedures