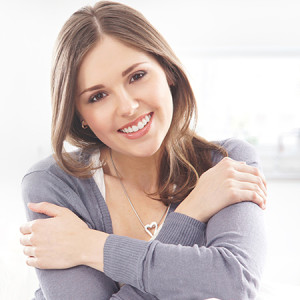 Are you unhappy with the appearance of your smile, primarily because of your low gum line? Do you feel embarrassed to show your widest smile because it also shows your entire upper gums? Or do your teeth appear small because your gums are covering up most of the tooth length? You may want to considering going through a process called gum reshaping.
What is Gum Reshaping?
Gum reshaping, also called gum contouring, is a minor surgical procedure that is done inside the dental office, usually by general or cosmetic dentists. It is often painless and quick, lasting for an hour or so. Our head dentist Dr. Mark Samuels is highly skilled in performing this procedure. He has had many patients who have undergone this procedure with significantly successful results.
When is Gum Reshaping Recommended?
Since gum reshaping is an elective procedure, it is only recommended for patients who personally have a desire to improve the appearance of their smile. To gauge your interest or eligibility for gum reshaping, you may answer this checklist:
Do you feel that you have a "gummy" smile?
Do your teeth appear small while most of your gums show when you smile?
Do you want to make your teeth look longer and bigger?
Are you willing to shell out for the procedure, considering it's a cosmetic treatment not covered by insurance?
Are you ready to endure the down time after the surgery, typically three to four days of soft diet and mild physical activity?
If you answered "yes" to most of these questions, then you may discuss your gum reshaping procedure with Dr. Samuels through a one-on-one consultation. He will explain how the procedure is done, what risks are involved, and how much it will cost. Prices are often customized based on the patient's dental condition, particularly if other dental procedures are involved.
Benefits of Gum Reshaping
Gum reshaping is mainly a cosmetic procedure and its benefits are focused on the asthetics of your smile. When you get your gums reshaped, you will feel more confident because you won't have the "gummy" smile that you dislike anymore. Your smile will also show more of your teeth. You won't feel like you have "baby" teeth anymore because the gums covering your teeth crowns will be trimmed away, making your teeth look longer. This will increase your self-esteem and help you face the public in a more confident manner, especially if your job involves regular social interaction.
How is Gum Reshaping Done?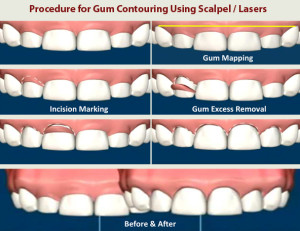 Before gum reshaping is performed, Dr. Samuels will first go through a screening procedure to determine the coverage of the surgery. Some patients may need to get bone or tissue grafts to maximize the cosmetic benefits of gum contouring. This is one thing Dr. Samuels may recommend before you are scheduled for the actual procedure.
Once Dr. Samuels has finalized the treatment plan and approach, he will set you with the schedule of the actual surgery. When you come it for the surgery, you will be given a local anesthetic on the gum area. Dr. Samuels will draw around your gums to determine which parts need to be trimmed away.
Using a laser tool, Dr. Samuels will trim and contour the gums until the desired shape is achieved. The laser works as a two-in-one device that cuts the tissue and also cauterizes and seals it in the process. There is no need for stitches or gauze because the tissue will not bleed.
After the procedure, you can expect some swelling in the gum area which will last for a day or two. You may choose to stay at home or you may resume working, but it is advisable to take the day off if your job involves a lot of talking. You will also be placed on a soft diet while the gums heal. Some foods to avoid include acidic, spicy, and very hot foods. Cold foods and ice will help reduce swelling.
Dr. Samuels may ask you to come in for a follow-up check-up a few days or weeks after the procedure. He will examine your gums and see if they have healed properly and achieved the shape that was originally aimed for. If you experience any problems with your newly contoured gums, please call us immediately at (203) 742-1027.
Where to Get Gum Reshaping in Stratford
Do you think gum reshaping is right for you? In Stratford and surrounding cities, the best place to get gum reshaping is Lighthouse Dental. Our establishment led by Dr. Mark Samuels specializes in general and cosmetic dental services, including gum reshaping and contouring. We will help you achieve the beautiful smile you've always wanted.
To schedule a consultation with Dr. Samuels, call us at (203) 742-1027. Our friendly receptionists and professional dental team will answer all of your queries regarding our cosmetic services.
---
Dental Care Service
Popular Dental Services
Trending Procedures