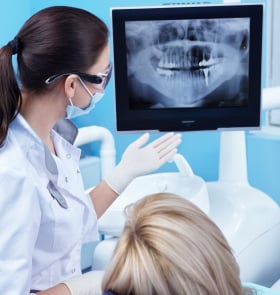 Watching a dentist work is always strangely awe-inspiring. Although your dentist may not sit with you for more than a few minutes at a time, it seems as though he is able to  pick out the tiny cavities in your teeth immediately. Imperfections that you yourself have never even noticed. While part of this is due to your dentist's training and experience, though, another part of it can be attributed to the unique tools that dentists have on hand.
For example, at Lighthouse Dental Care in Stratford, CT, Dr. Mark Samuels relies on two very simple but special pieces of technology: digital X-rays and intraoral cameras. Together, these two tools allow him to better formulate his diagnoses as well as carry out delicate treatments. To learn more about how Lighthouse Dental Care uses these two tools, you can talk to Dr. Samuels by calling Lighthouse Dental Care or by submitting a form on our website.
What are digital X-rays?
Everyone's heard of X-rays. But, when most people think about X-rays, they tend to think about bone doctors and orthopedic surgeons. It's not a big leap, then, to apply the technology to dentistry: after all, teeth are made from the same materials that bones are. Digital X-rays are then images of the "insides" of the teeth that show aspects of a tooth that cannot be discerned from mere observation.
Specifically, when dentists talk about digital X-rays, they are referring to X-ray images taken of your teeth from different angles. Chances are great, you've experienced this process already. Most dentists include a digital X-ray as part of their routine screening tasks, so you've probably started  your six-month checkups covered with a protective sheet and trying not to move as the pictures are taken.
The exact X-rays used may differ depending on the dentist, but there are four general types of X-rays that could be taken:
Periapical X-rays, which shows a close up view of an entire tooth, from the visible part of the crown all the way to the roots embedded in the gums;
Bite-wing X-rays, which show the upper and lower molars in conjunction, highlighting the area where they meet;
Panoramic X-rays, which depict the entire oral system, including the teeth, jaws, jaw joints, and nasal/sinus areas; and
Occlusal X-rays, which show the floor of the mouth and which are used primarily to track a child's tooth development.
What is an intraoral camera?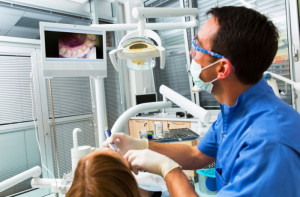 Intraoral cameras are similar to X-rays in that they show aspects of the teeth that may not be visible to the naked eye, but they are slightly different from X-rays in that they depict the exterior of the teeth rather than imaging the interior of a tooth. The name pretty much describes the tool: intraoral cameras are tiny cameras that can be inserted into the mouth to photograph the teeth.
It may sound underwhelming, but intraoral cameras have virtually revolutionized the field of dentistry. Just think about it. Without an extra tool, the only way your dentist can look at the hard to reach angles of a tooth is via the use of a metal mirror. While this works well enough, it's still a relatively primitive tool. After all, all a mirror can do is reflect images. It can't illuminate areas, nor can it zoom in to specific problem sections.
As you've probably surmised, an intraoral camera can do that and more. In fact, intraoral cameras can transmit real-time images of your teeth, zooming into and highlighting different areas as necessary. As you can imagine, this is useful in almost every type of dentistry. It can do anything from getting a closer look at a cavity to assisting in a surgical procedure. The applications are endless!
Dentistry is a constantly evolving field, meaning that the technological bounds we've reached in just the past 10 years alone are astounding. Intraoral cameras (and their older counterparts, digital X-rays) may be something new to dentists now, but they are undoubtedly tools that is here to stay (or at least here until an even better tool is developed).
At Lighthouse Dental Care, we pride ourselves on our ability to stay at the top of the technological curve. Thus, if you ever have any questions about the tools we use or the procedures we provide, all you need to do is contact our Stratford office to set up a consultation with Dr. Samuels. We're always happy to talk to new people about the wonders of dentistry! Simply call (203) 742-1027 or fill out a form on our website to set up your appointment today!
---
Dental Care Service
Popular Dental Services
Trending Procedures