How Mouthguards Can Help Protect Your Teeth
Your teeth matter. They are more than just for showing the world your smile. They are necessary structures in building self-confidence and overall appearance, in developing stronger eating habits, and in speech. Many times, though, problems exist that can damage these structures. That is why there are remedies available through qualified professionals like our own Dr. Mark Samuels that can help to alleviate the chance of a dental problem. Among these different tools—of which there are many—are mouth guards. Dental mouth guards come in a wide variety of shapes and sizes. They are also recommended for use for a variety of different reasons. The following outlines more about what these devices do, who they can help, and what you need to know if your dental professional recommends them.
What are Mouthguards for Sports for?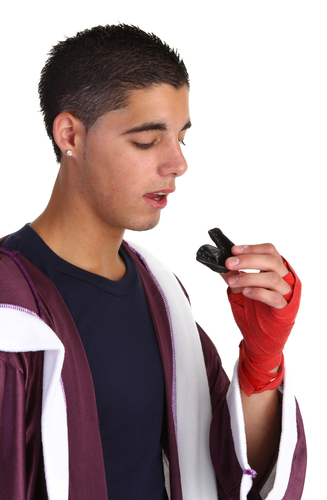 When it comes to playing a sport—especially those that involve risk of contact or hitting—it is likely that you will be required to wear a mouthguard. Many dental professionals will encourage this as well because of the preventative steps it takes in protecting the teeth. Those that are at risk of trauma to the teeth from impact can protect their body's better by wearing protective mouth guards. These envelop the teeth—still allowing for appropriate breathing—and will absorb some of the shock if a ball, puck, stick, or fellow competitor hits the oral cavity. Mouth guards for sports also help to stabilize the teeth in the event that a traumatic incident occurs.
Sports mouth guards are among the cheapest option in preventative oral care, being able to be purchased for just a few dollars at most health or sporting goods store. The more protective they are, the more expensive they can be. To find the option that is right for you and the sport that you play, the team at Lighthouse Dental Care led by Dr. Mark Samuels will be happy to guide you on your next appointment.
What About Mouthguards for Teeth Grinding?
Teeth grinding can occur consciously or subconsciously. It is, essentially, the tensing of the jaw and clenching of the teeth. It can do great damage to the teeth over time. It can begin to wear down the structures to the point of no repair or it may even result in breakages. This can be more than just damaging to the look and aesthetic value of the mouth. It can also cause pain, discomfort, disrupt eating, and result in worse conditions like TMJ.
For those that wish to stop teeth grinding—or at least its impact—more and more dental professionals like Dr. Mark Samuels encourage the use of mouthguards. Mouth guards for teeth grinding prevention or protection are essentially coverings that are placed upon the teeth in much the same way that sports mouth guards are. Teeth grinding mouth guards, though, are made from more durable materials that fit tighter to the teeth. This is because they are often worn overnight and should have the tightest fit possible.
What MouthGuard is Best for Teeth Grinding Prevention?
For the best options, though, the mouth guards you choose should not be purchased over the counter, however. Over the counter mouth guards that are either boil and mold or one-size-fits-all can result in little to no effect due to poor sizing or may even result in more damage to the teeth as they do not properly cover the structures nor do they absorb shock and grinding tension as they should. If a mouth guard is being used for teeth grinding, then, it may be worn at night and something super fitted is the best option.
Who Does MouthGuard Fittings?
Mouth guards for teeth grinding, then, should be created in a custom manner for the particular set of teeth they are going to be placed upon. For instance, those that want to strengthen their teeth and stop them from taking the shock and damage of grinding should consult a qualified office like our Lighthouse Dental Care office in order to get a private consultation. If a mouth guard is applicable and of value, Dr. Mark Samuels will provide the custom fit and walk you through the process, using the best tools and dental resources available on the market today. This, then, can provide relief, stop damage, and guide our patients to the best possible combatant in the battle against teeth grinding.
For more information on how to set up a consultation or to ask your questions, be sure to contact our office right away. We can be reached during business hours via phone at (203) 742-1027 and one of our qualified and friendly staff will help you through the process.
---
Dental Care Service
Popular Dental Services
Trending Procedures