If chipped, discolored, or misaligned teeth are causing you to hide your smile, it's important to know that you have options. If you'd like to improve your smile, getting high-quality porcelain veneers in Stratford may be the solution.
What Is a Porcelain Veneer?
A porcelain veneer is created using thin layers of dental porcelain that are colored to look like natural teeth. Veneers can correct the shape or size of your teeth, making them a great choice for those whose teeth have been shortened due to teeth grinding. If your teeth have become discolored due to aging or drinking certain beverages, veneers can help you restore your smile's brilliance. Dentists also recommend porcelain teeth to correct alignment and spacing issues, including small gaps and other imperfections.
How Much Do Porcelain Veneers Cost?
The total porcelain veneers cost will depend on several factors, including the severity of your aesthetic issues, your insurance coverage, and the condition of your teeth and gums. Getting a porcelain veneer is sometimes considered an elective procedure; therefore, many insurance providers do not offer coverage. However, there can be exceptions if the veneer is deemed medically necessary. Contact your insurance provider for more details, or call our office to explore your payment options.
What Is the Difference Between a Veneer and a Crown?
While porcelain crowns usually will need to be replaced after several years, a veneer is a permanent restorative solution. Porcelain veneers and crowns are created using the same materials, and both can restore the shape and color of teeth. Veneers are permanently attached to the surface of healthy teeth, while crowns serve as a "cap" for damaged teeth.
Porcelain Veneers: Before and After
Our dentists are committed to helping you achieve your best smile through high-quality veneers. Here are a few examples of how veneers can completely transform your smile: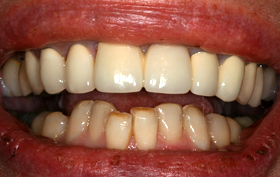 BEFORE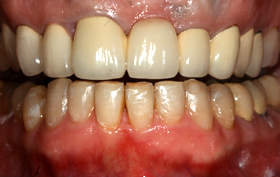 AFTER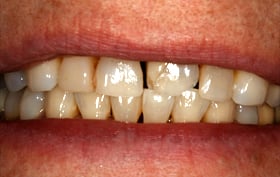 BEFORE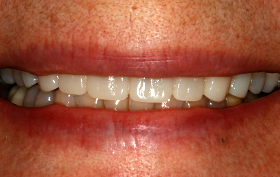 AFTER
What Happens During the Porcelain Veneers Procedure?
Getting new porcelain veneers in Stratford usually requires multiple dental visits. At your first visit, our dentist will examine your teeth and determine if you're a good candidate for veneers. He or she will then determine what type of material will help you achieve the results you desire.
When it's time to create the veneer, your dentist will remove approximately half a millimeter of enamel from the surface of your teeth. A local anesthetic can be used if you experience discomfort. An impression will be taken of the tooth and sent to a dental laboratory for creation. In about two to four weeks, your veneer will arrive at our office, and you will return to have it bonded to your teeth. Your dentist will also ensure that the veneer fits and matches your smile perfectly.
How Long Does a Veneer Last?
Porcelain veneers typically last for decades, allowing you to enjoy years of a healthy-looking smile. Brush and floss your veneers just like you would natural teeth, and be sure to avoid opening items like bottles and bags using your teeth.
What Are Lumineers®?
A specific brand of veneers, Lumineers® are ultra-thin and require minimal reduction in the enamel of your natural teeth. Despite being lightweight and comfortable, Lumineers can last for up to 20 years. Call us now to learn more about this innovative option for veneers.
Dental Care Service
Popular Dental Services
Trending Procedures