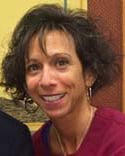 Dr. Joy Cocchiola attended Clark University where she received a Bachelor of Arts Degree in Biology, cum laude. She then went on to earn her Doctor of Dental Medicine degree from the University of Connecticut School of Dental Medicine. Dr. Cocchiola completed a one-year general practice residency at Mount Sinai Hospital in Hartford, and then joined her dad in private practice in Shelton. Their family practice focused on building long-term relationships with their patients, often providing quality dental services to multiple generations.
While her children were young, Dr. Cocchiola took a 7-year hiatus from private practice and established the dental program for the School Based Health Centers in Bridgeport, CT. These were health centers right in the school buildings that provided medical and mental health services for the students. Dr. Cocchiola helped establish, maintain and staff seven dental clinics where otherwise these students would have no access to dental care.
As Dr. Cocchiola's children got older, she rejoined her dad in private practice. They opened a new office close to their previous location and practiced there together until 2015 when their practice merged with Lighthouse Dental Care.
Dr. Cocchiola takes pride in the gentle and sensitive manner in which she practices as a dentist. No patient should delay care due to fear or embarrassment. Dr. Cocchiola and her team want to make it as easy as possible for people in Connecticut to get the quality dental care they deserve.
Dr. Cocchiola lives in Stratford, Connecticut with her dog "Jonas" She enjoys staying active and working out at the gym and running outside.